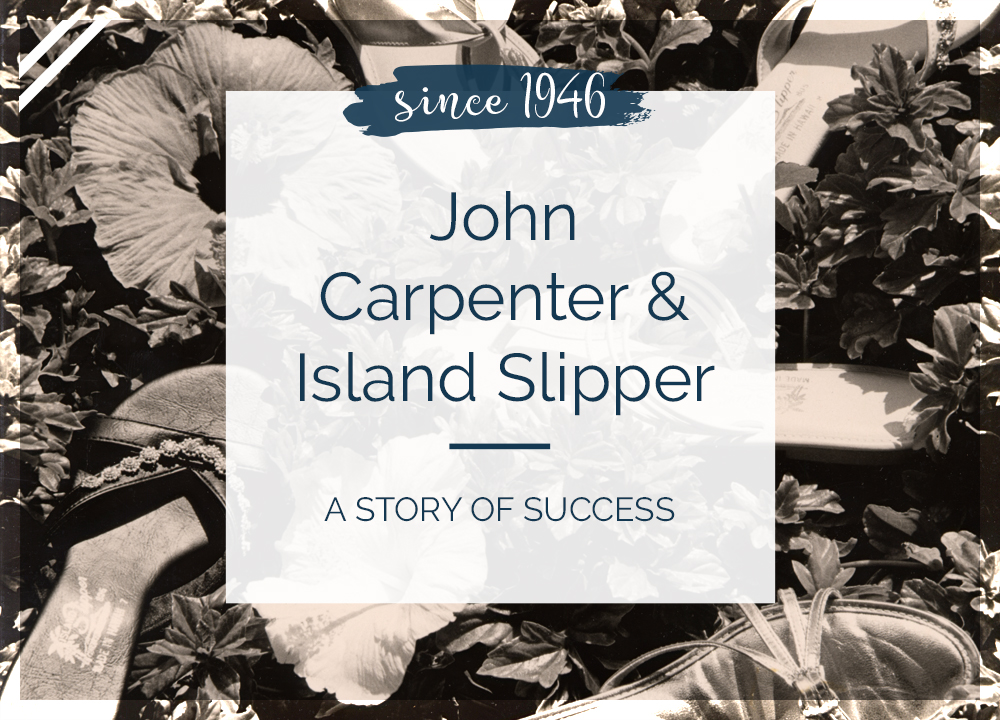 It has been more than 70 years since Island Slipper has been pampering the feet of many, from the island ladies who love fashion to the fishermen along the coast who are searching for comfort. Locals, as well as people from all over the world fell in love with the charming, handmade slippers, which are admired for their quality and appearance, but also for continuing a tradition of authenticity and innovation.
The owner of Island Slipper, the oldest manufacturer of made-in-Hawaii footwear, is John Carpenter. The man who followed his guts and dreams, and when the Motonaga family offered him the company, immediately switched from cowboy boots to slippers to start a difficult but spectacular journey.
"There are people who will impact your life greatly" - John Carpenter
John Carpenter's wife, Daisy was, as mentioned in a note to his younger self written for Footwear Plus Magazine, one of the most important people in his life and, together with Bill, his first boss at Nordstrom and his best man, greatly impacted his journey.
Bill mentored John, teaching him everything in the retail industry, and helping him evolve from stock clerk to department manager. Daisy, his life partner since they were both 19 years old, always offered him love and support, but even if Island Slipper seemed like a nightmare for her, John followed his dream, seeing the potential instead of considering the downsides. So, when he was approached to buy the company in 1986, he went for it, and Daisy followed in 1988 when she officially joined Island Slipper.
Following Dreams with Hope and Vision
As he declares in the same letter to a younger John, his greatest qualities, which are essential parts of being an entrepreneur, are hope and vision. These traits helped him focus on the positive aspects of running Island Slipper instead of paying attention to all the challenges that were about to come. His courage and productive spirit made him adventure into the journey that brought him a successful local and international business.
Nothing scared John. He overcame the fact that he was about to start manufacturing footwear on an island in the middle of the ocean, the high costs of production, logistical issues, and all the other challenges that came with being the owner of Island Slipper at that moment.
The courage to follow his guts and dreams was greatly rewarded, because now Island Slipper is a loved, profitable family-owned business with an amazing past and a fantastic reputation locally and internationally.
But John is not only a visionary entrepreneur. In 1989, he designed a sandal, known as the "Classic". His Island Slipper model is still the number one selling product, and it is considered a fashion icon to this day by some of the most famous retailers.
A Mission to Make a Difference and Leave a Legacy
It has been many years since Island Slipper came to life and it is now one of the oldest brands still made in the U.S.A, thanks to the passion, hope, and vision John Carpenter put on the table the moment he decided to begin his journey with the company.
His dream came true also thanks to the passionate, focused, and hardworking team he has, and to the love for fashion, comfort and for making customers happy, all people at Island Slipper share.
But tradition is not something John Carpenter enjoys only at work. While he and Daisy retired in 2018 to enjoy his other passion, sailing, and the lovely letter to his younger self was written while on an Alaskan cruise, his son, Matt, followed his father's footsteps and became, together with his life partner, Tersha, the next generation of Carpenters to lead Island Slipper. Also, just like Matt did when he was little, John's grandson Zac loves playing at the factory, giving the Carpenter family the hope he too will continue this legacy.
Whether that will happen or not, we will see. Until then, let's all put on our favorite pair of Island slippers and walk towards our dreams, learning from the amazing story behind John Carpenter's success, and trying to overcome fear and pessimism because with vision, hope, and hard work everything is possible.