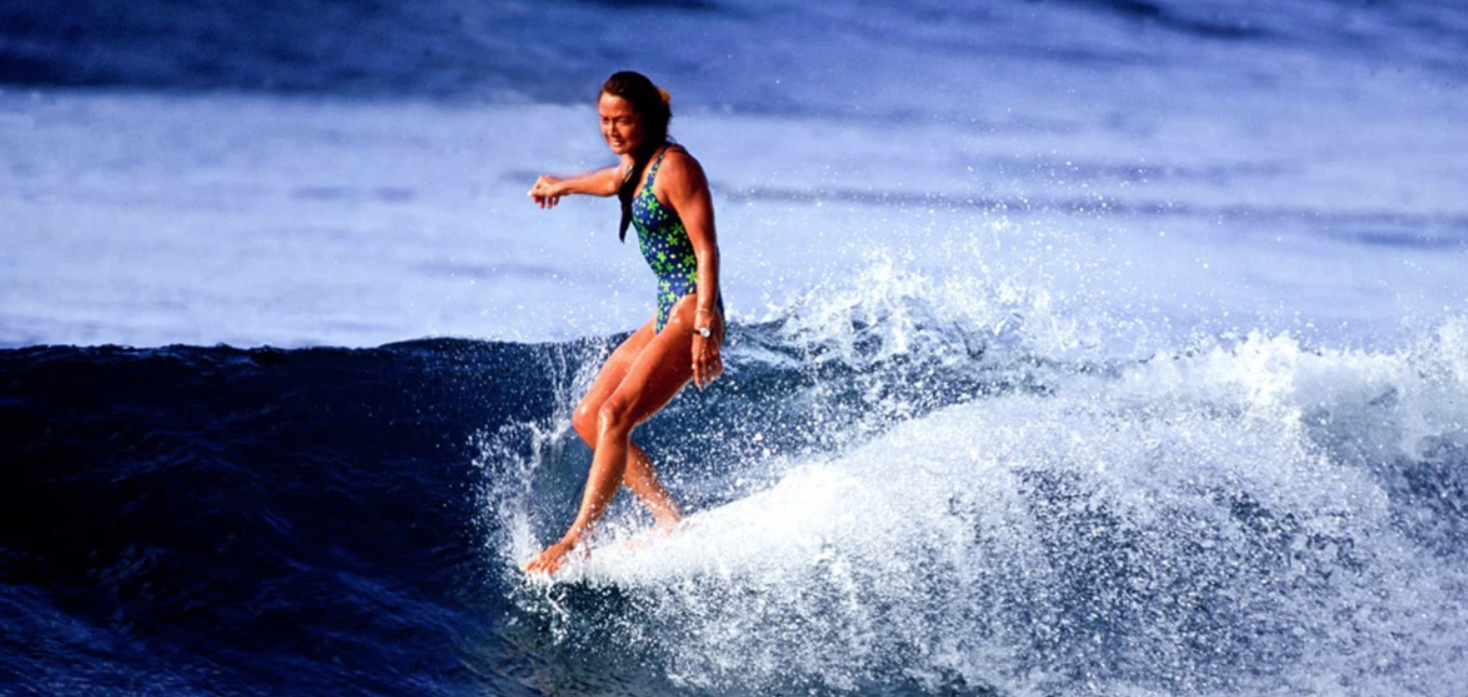 Highlighting the contributions of women to events in history and contemporary society, Women's History Month is celebrated during March in the United States, the United Kingdom, Australia, and many other countries of the world, corresponding with International Women's Day on March 8.
We usually love celebrating women with flowers or a beautiful gift, like a local pair of hand-made Island slippers. But, to celebrate and recognize the amazing achievements women have made throughout history in various fields, today, we pay tribute to our beloved Hawaiian sport's pioneer for women and world surfing champion, Rell Kapoliokaehukai Sunn.
Before I could read words, I could read the ocean, I could read the tides, the wind on the ocean.- Rell Kapoliokaehukai Sunn
Born on July 31, 1950, in Oahu's beautiful Makaha, and known as Queen of Makaha and Aunty Rell, the late pioneer surfer Rell Sunn spent her childhood among surfboards instead of dolls. She spent her time exploring the beach and nurturing the Native Hawaiian water woman she carried inside.
Tell Sun's middle name was Kapoliokaehukai, which can be translated to "heart of the sea" and, without a doubt, this was a perfectly fitting name for our Queen of Makaha. She mastered all kinds of watersports, from surfing, of course, to open-water outrigger canoeing, bodysurfing, and spearfishing.
Not only did Rell start traveling around the world to compete professionally in 1966, after a trip to California where she attended a world championship together with Duke Kahanamoku, but the surfing pioneer was also named Hawaii's first female lifeguard in 1977.
In 1979, together with other surfing fellows, she formed Women's Pro Surfing (WPS) with pro-women, and in 1982, she became number one in the world on the longboard.
Also in 1982, during the pro surf meet in Huntington Beach, California, Sunn felt a lump in her breast. Unfortunately, the lump turned out to be cancer, and, in 1983, she was given one year to live. Despite chemotherapy and all the pain and sickness involved, Rell continued to surf daily. She also became a radio disc jockey and surf reporter. At the same time, the surfing champion was a physical therapist at a Waianae care home.
And there is more. Queen of Makaha helped pilot a program for breast cancer awareness at the Waianae Cancer Research Center. The program aimed to educate local women in regards to the causes and prevention of breast cancer, which she fought for about 15 years, despite the early prognosis of only one year left.
During this time, her cancer went into remission three times, and she suffered a mastectomy, as well as a bone marrow transplant. Aged 47, Rell Sunn, the Queen of Makaha, died on January 2, 1998. After her memorial service, where more 3,000 people attended, her ashes were scattered in the ocean.
Rell embodied everything that is great about surfing, but she grew larger than that. She represented the values we hold so dear in Hawaii. - Fred Hemmings
The annual Rell Sunn Menehune Surf Contest, at Makaha, is one proof that Rell was not a taker, but a giver. The contest has given countless local kids a venue to enjoy and excel at surfing, and she was making extraordinary efforts to teach them to appreciate water. She gave surf lessons, taught them to pick up trash on the beach, and much more.
When, in her final years, she volunteered as a Navigator for the Waianae Cancer Research outreach program, she extended her aloha to not only the children but also adults. According to her, the aloha spirit is simple: "You give, and you give, and you give... and you give from here (the heart) until you have nothing else to give."
Our incredible Queen of Makaha was an extraordinary woman, with sensational achievements. But she had the same strength and passion in her private life. She was a single mother and a sole provider for the daughter, Jan Sunn-Carreira, who remembers how her mother was struggling with surfing competitions, her job as a lifeguard, as well as jockey and surf reporter, to pay the bills.
Rell was always looking for her daughter, supporting and teaching her important values, while being her mother, father, brother, and sister. But, besides her daughter, the children of Hawaii were those who received a large amount of Rell's time. Many of surfing's young stars began in competitive surfing at Rell's annual Menehune Surf Contest, an event still famous for its fun vibe and camaraderie.
For all she did with passion and compassion, the Queen of Makaha deserves our appreciation, thoughts, and applause, not only during Women's History Month, but always.
Aloha, Rell Sunn, and mahalo. . .